Phillip Bruggisser Wants to be Gritty
What do you think? Does he deserve it?
Cardiff Devils Fans are Learning about Grit
After having a Gordie Howe hat trick on Saturday night... the Cardiff Devils fans are more than impressed with Tylor Michel.
Wannabe2 Writes:
This guy is a real gem, he is the sort of player that the Devils have thrived on over the years. This is the type of player Devils fans love to watch, forget the name on the back, its about playing for the name on the front. 200% every shift, true grit, hits hard, skates hard, plays hard, and can score, what more would you want. These are the guys that fans love to see, young gritty, with a point to prove, and a very nice guy too.He really do epitomise what Cardiff Devils have always been about, and a breath of fresh air. More of the same please Tylor, the fans are just loving it.
Let us know what you think!!!
---
Tylor Announces Gritty Player of the Month for September: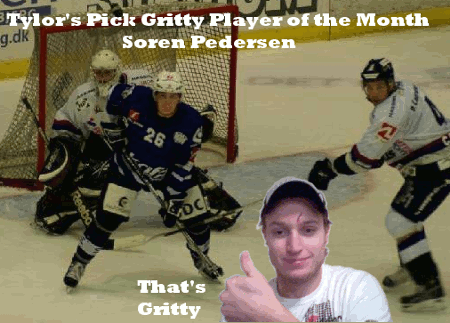 Soren Pedersen
Soren, at only 18 years old, is playing in the AL-Bank Ligaen in Denmark. Tylor chose him as the gritty player of month the due to his gritty comeback from knee surgery. Only three weeks ago Soren was under the knife. Last week he netted his first professional goal in an Esbjerg victory against the Rungsted Cobras. Yes, the goal was in true gritty form... banging home a rebound getting his nose dirty in the crease.
Tylor states, "This picture says it all. Look at the opposing defenseman he doesn't have the balls (or as the Danes say 'storre nosser') to put his face in front to the shot coming to the net. Soren is right in front of the goalie muck'in it up. Great job Soren! Keep up the gritty work!"
---
About Gritty Hockey
This site is dedicated to Tylor Michel. He is the grittiest hockey player in the world. I have been following him from his junior days and am more amazed everytime I see him play. A team first and self second attitude is what he brings to the table. You all probably know him for the records he holds for blocking shots, but I appreciate all the little things he does. He will scrap, hit, go in the corners, or anything he needs to do for the team.
This puck never stood a chance!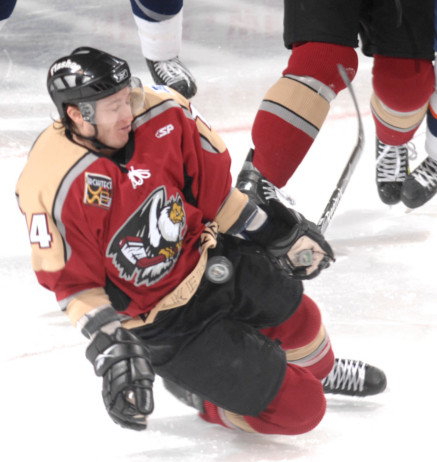 Tylor isn't out there for the glory of being a professional hockey player. He is out there to feed his fierce hunger for the game. Please take a look at the site and add to it.. let us know if Tylor Michel has inspired you as he has done to me.

If you have any pictures, video, stories, or new Mich-isms please email them to [email protected]
Recent Updates
---
Monday, February 23, 2009
This weekend Tylor's grit level was a 7.5